Indie Ink Awards 2022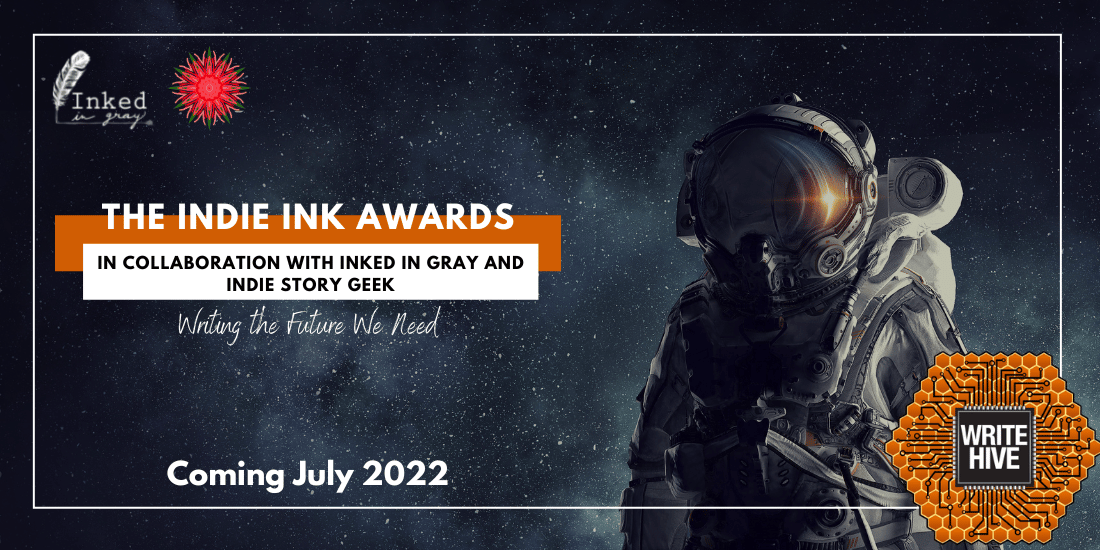 Books by marginalized authors, self-published books, and books by small presses often get overlooked. The Indie Ink Awards is a unique event that brings together the writing community to celebrate books that have made an impact on us. This is our way of highlighting the future we want to see in books–by uplifting those that shine.

The Indie Ink Awards will begin with nominations. In July 2022, you will be able to nominate your favorite books for over 30 different awards. All voting will take place right here on IndieStoryGeek.com.

We have two categories: the "Best In" awards and the "Writing The Future We Need" awards. The "Best In" awards should exemplify the chosen category. We are looking for exceptional inclusion and diversity in works nominated for "Writing the Future We Need" awards. Readers can nominate books for as many awards of either category as they think fit.

Only self published/small press books will be considered, AND they must be on Indie Story Geek. Those published by a subsidiary of the Big 4 are not eligible. If you're an author and your book is not on Indie Story Geek, you may create an account and submit your book. You are not allowed to nominate your work, but you are encouraged to let your readers know that the Indie Ink Awards are taking place so they can nominate and vote.

Once the nomination period starts, books will go through a process of elimination.
The contest has four phases:
Nomination phase – July 2022 – books are nominated by anyone with a Indie Story Geek account.
Voting phase – August 2022 – the top nominated books will be listed by award for readers to vote on. The top ten in every category will move on at the end of this phase.
Authors of selected books are contacted in September 2022. Authors may provide a digital ARC for our judges to review if they wish, or they may opt-out of continuing in the competition.
Judges review selected books in their assigned category from October 2022 through APRIL 2023, utilizing a rubric for increased objectivity.
Winners will be announced in our awards ceremony on May 27th from 12pm PDT/3pm EDT to 2pm PDT/5pm EDT, on WriteHive's Discord in our book-nook channel!
We'll record the audio and have that posted for anyone to listen to afterwards, so if you aren't able to make it, you can still celebrate these amazing indie books along with us. The list of winners will be posted on Indie Story Geek after the awards ceremony.
For more information, see
WriteHive's Indie Ink Awards page.
Or,
meet the judges here!
Judges:
---
Congratuations Winners!
---
Awards:
Best Audio Narration
---
Best Book Cover & Cover Artist
---
Best Debut
---
Best Friendship
---
Best Interior Illustrator
---
Best Light Read
---
Best Mentor Character
---
Best Morally Gray Character
---
Best Setting
---
Best Use of Tropes
---
Best Villain
---
Funniest
---
Most Optimistic
---
Prettiest Book Interior
---
Prettiest Prose
---
Shadiest Character
---
Side Character MVP
---
This Book Made Me Hungry/Thirsty
---
Wiliest Character
---
Wittiest Character
---
Writing the Future We Need: Asexual Representation
---
Writing the Future We Need: Asian Representation by an Asian author
---
Writing the Future We Need: Bisexual Representation
---
Writing the Future We Need: Black Representation by a Black author
---
Writing the Future We Need: Disability Representation by a disabled author
---
Writing the Future We Need: Gay Representation
---
Writing the Future We Need: Indigenous Representation by an Indigenous author
---
Writing the Future We Need: LGBTQ+ Representation
---
Writing the Future We Need: Latinx/Latine Representation by a Latinx/Latine author
---
Writing the Future We Need: Lesbian Representation
---
Writing the Future We Need: Mental Health Representation
---
Writing the Future We Need: Neurodivergent Representation by a Neurodivergent author
---
Writing the Future We Need: Nonbinary Representation
---
Writing the Future We Need: Trans Representation
---