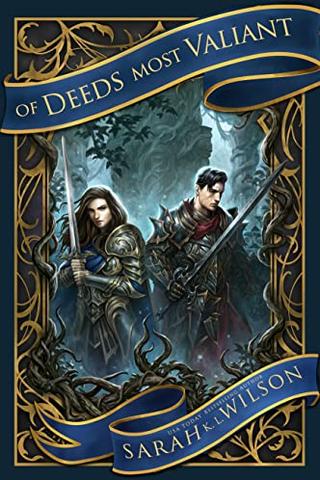 Of Deeds Most Valiant by Sarah K. L. Wilson
Eleven paladins walk into a monastery. Only one knows it's a trap. When Victoriana Greenmantle is summoned to represent her paladin order in an unusual quest, the timing couldn't be worse. Having just witnessed the horrific death of her mentor, she is barely a paladin at all. Worse, she has a trapped demon on her hands and if anyone discovers she hasn't quite managed to cast it out, she will be made to suffer consequences worse than death. The summoning requires Victoriana to journey to the newly revealed Aching Monastery and there to search for and recover the fabled Cup of Tears on behalf of her order. But her order is not the only one seeking this relic. And her rivals are stronger, smarter, more experienced and just as motivated as she is. Will this cynical paladin have the faith to find the truth? When Adalbrand Von Menticure is summoned to the Aching Monastery he is unamused. Far from his holy work healing the sick and injured, this quest seems a waste of his time. But when the murders start and he's thrown together unwittingly with a young female paladin who keeps breaking all the rules and drawing everyone's ire, he is forced to confront ghosts of his past. Can he push past his guilt to accept this tempting ally? Together, these two holy paladins may be the only ones who can discover what or who is killing their compatriots and whether the Cup of Tears is really worth the bloodshed and danger within the monastery walls before time runs out and they are trapped forever. A complicated mission, you say? Oh, but it gets worse, because forbidden love is slowly stalking them both, complicating everything, and leaving them each more vulnerable than they can afford to be in the face of a danger worse than either of them ever imagined. Will this pair find strength in their strict discipline and holy orders in time to escape, or will they fall before the twin dangers of a rogue killer and an attraction more deadly than the simple risk of death?

This adult romantic epic fantasy stand-alone novel features paladins in all their aspects and is perfect for lovers of T. Kingfisher, Tamsyn Muir and Danielle L. Jensen. Though this book is a part of a collection of books linked by the same world it is a complete story in itself and does not bleed out into the other books in the series.
Adult • Fantasy/Epic and High • Fantasy/Romantic and Erotic