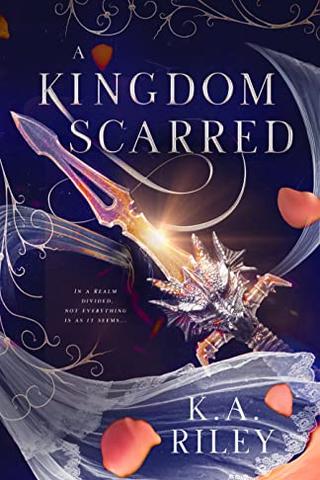 A Kingdom Scarred: A Fantasy Romance (Fae of Tíria Book 1) by K. A. Riley
For fans of A Court of Thorns and Roses and other Fantasy Romance comes a tale filled with twists, turns, and passionate, forbidden desire.

"I was a prisoner in these ruins, captive of a Fae who was as perilously alluring as the lands where I now stood." A thousand years ago, the mortal realms of Kalemnar were separated from the land of the Fae by a dark, poisonous mist that takes lives with all the cruelty of the sharpest blade.

Lyrinn Martel has been told all her life that the Fae deserted their lands long ago, leaving them to decay and ruin. Rumors still swirl to this day that the Immortals were malevolent creatures, bent on destroying the realms of humans…and that their departure was a welcome blessing. But one fateful night, as Lyrinn flees for her life, she discovers a hidden path up the cliff beyond her town that guides her to the Fae realm of Tíria. There, she encounters a Fae so extraordinary and captivating that she finds herself inextricably drawn to him, despite her fear that he plans to send her to her death. When Lyrinn escapes the Fae lands, she finds herself summoned to the palace of the mortal king. Even as her journey begins, she discovers that the alluring Fae is not done with her—and he has no intention of ever letting her go. For fans of Fantasy Romance such as A Court of Thorns and Roses, A Kingdom Scarred is the first book in an exciting new Fantasy Series by the author of Recruitment and The Cure.
Adult • Fantasy/Epic and High • Fantasy/Romantic and Erotic