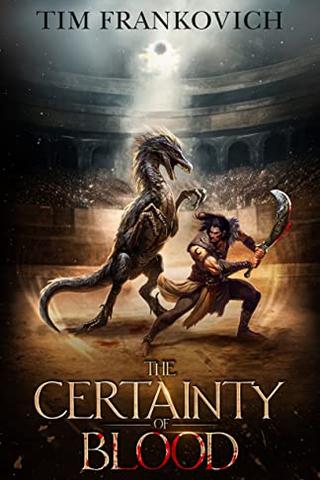 The Certainty of Blood by Tim Frankovich
Nothing is certain under the moon's gaze, save blood.

When Aldan discovers the power to burn someone's blood, he is taken from his family, branded, and sold into slavery as an arena fighter. A painful life and an early death are all he can expect, until he listens to a supernatural voice coming from his own blood. Taking her advice, he uses his power to become the greatest arena fighter of the age, fighting year after year with one goal in mind. If he can purchase his own freedom, maybe a normal life with the woman he loves is possible. And now, he needs to win only one more fight… against a rebel leader who people are calling "the chosen one." From the grueling training grounds where boys learn to kill, to the luxuries of the sinister Hawk King's palace, Aldan's whole life has led inexorably to this one day. This one fight. The king holds everything Aldan cares about. All he has to do is kill this final opponent. But love and friendship demand a different outcome. The choice is not as easy as it first appeared… Gladiator meets The Name of the Wind in this mesmerizing tale of blood, glory, magic, and love.